We used to think there were not enough digital marketers out there, but the truth is there's no shortage of applicants for digital marketing positions, yet many of them are not able to produce results once hired. This leaves the organization frustrated and the marketer feeling defeated. The problem is a lack of digital marketing skills.
But before we discuss further let's look at some truths about the digital marketing career, and if you should consider it for yourself.
Much has been said about one of the most high in demand careers today.    
It's High in Demand
More and more businesses and startups are in search of digital marketing talents, especially now when most adopt a consumer-first business strategy, preferring a more organic approach to their product growth. Digital marketers have since become a hot topic and one of the most sought jobs as we move towards IR4.0.
Provides Stability & Growth
Digital Marketers in Malaysia have an annual salary hovering around RM60,000- RM160,000*. A healthy package for most and according to a recent McKinley Marketing Partners' Marketing Hiring Trends Report, 94% of marketing leaders said they hired at least one new team member in the past year. It's no wonder digital marketing is a great career to pursue.
The Digital Disconnect
On another spectrum, the rapid evolution of digital marketing has created a "digital disconnect" where most marketers have yet to fill in the big shoes of expectations that come with their titles. 44% of hiring managers report not being able to find "qualified" candidates, according to McKinley.
According to the bootcampdigital.com reports, the survey also shows the gap in skills and the need for a solution. As illustrated in this graph showing the topic areas in that marketers answered most questions incorrectly.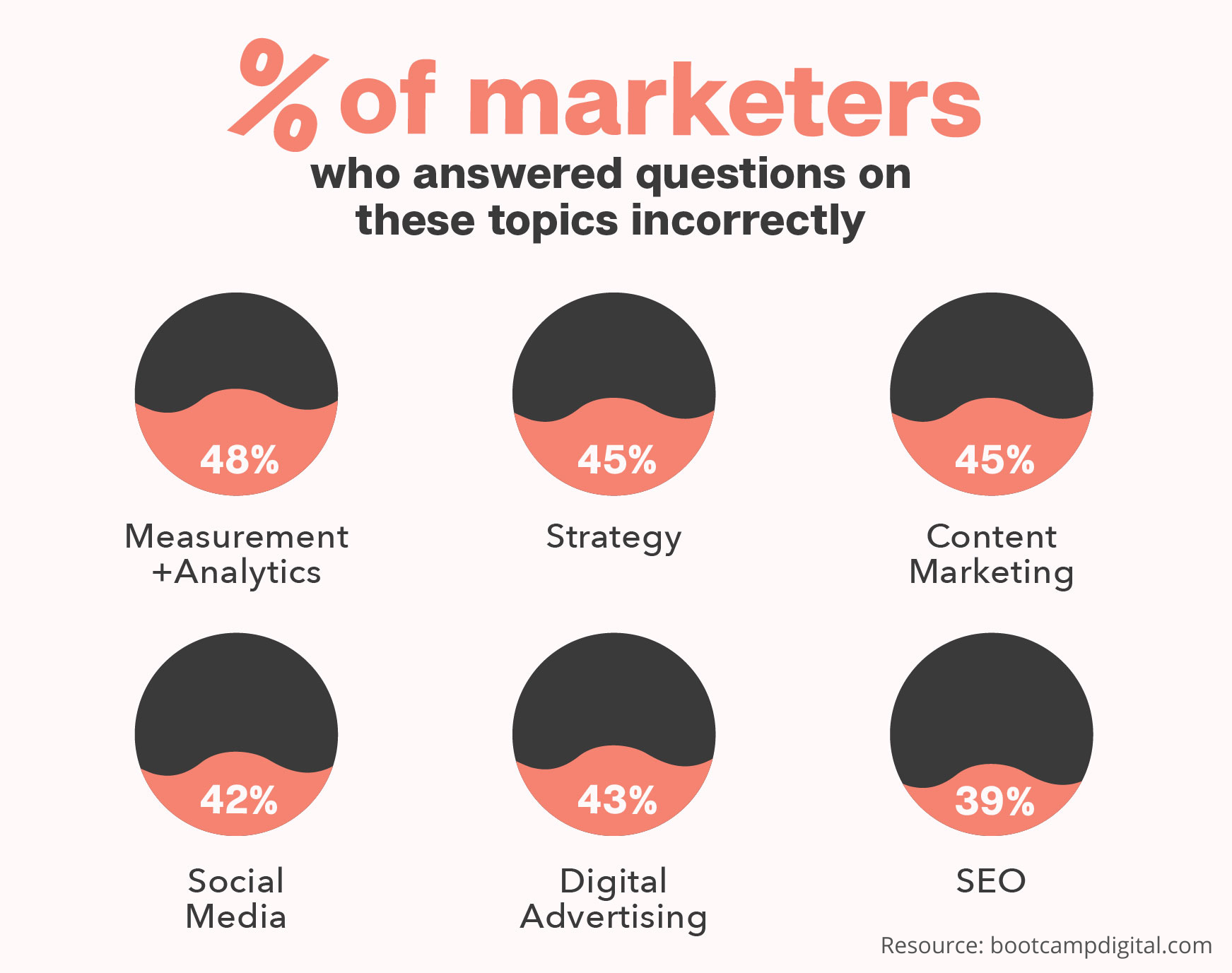 Digital Marketing isn't for everyone. But, these skills can be learned. All the information and tools you need are at your fingertips. It's all about dedicating time and energy to learning these ten essential skills and you will become a digital marketing rockstar.
WHAT CAN WE DO TO HELP?
We launched airasia academy to help you expand your own or your team's digital skill-sets. Our team of digital experts deliver a training session designed to up-skill your marketing team and give your business the digital advantage, with the content of the session changing each month.