More and more businesses and startups are in search of digital marketing talents, especially now when most adopt a consumer-first business strategy, preferring a more organic approach to their product growth. Let's look at some facts about the digital marketing career, and why you should consider it for yourself.    
It's High in Demand
Digital marketers have since become a hot topic and one of the most sought after jobs as we move towards IR4.0. According to a recent McKinley Marketing Partners' Marketing Hiring Trends Report, 94% of marketing leaders said they hired at least one new team member in the past year. Click here if you would like to know more about launching your upskilling or reskilling journey in Digital Marketing with us.
Provides Stability & Growth
Digital Marketers in Malaysia have an annual salary hovering around RM60,000- RM160,000*. A healthy package for most and interestingly, one of the easiest careers to kick off with minimal experience. Based on this, we connect our graduates to companies through our guaranteed job placement program.
The Digital Disconnect
On another spectrum, the rapid evolution of digital marketing has created a "digital disconnect" where most marketers have yet to fill in the big shoes of expectations that come with their titles. 44% of hiring managers report not being able to find "qualified" candidates, according to McKinley.
According to the survey bootcampdigital.com, the report also shows the gap in skills and the need for a solution. As illustrated in this graph showing the topic areas in that marketers answered most questions incorrectly.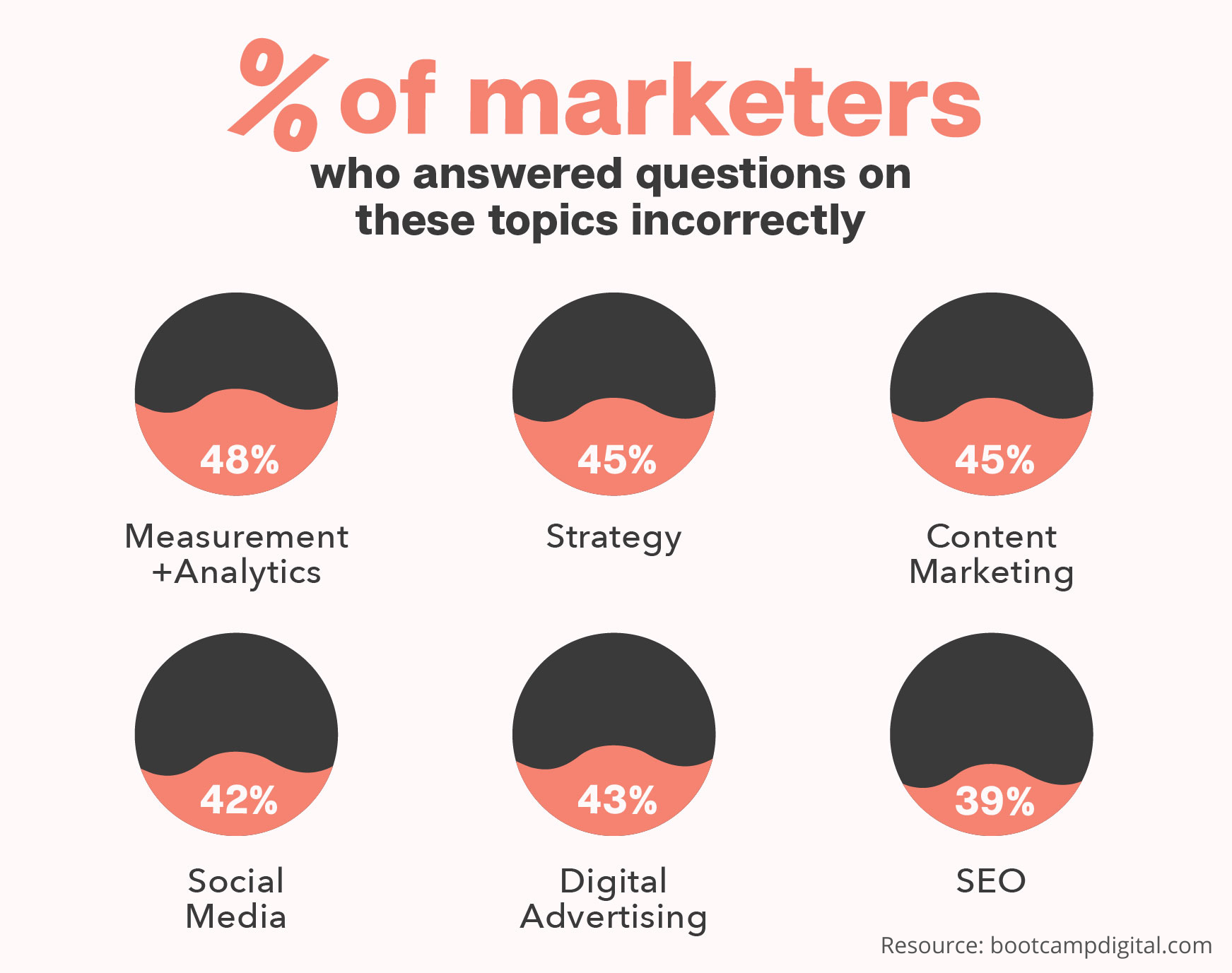 WHAT CAN WE DO TO HELP?
We launched airasia academy to help you expand your or your team's digital skill-sets. Our team of digital experts deliver a training session designed to up-skill your marketing team and give your business the digital advantage required.